Just a brief update:
*I made an A in both of my classes.

WooHoo

! No Grad school until January 12

th

!
*Clint applied to Clemson and heard back from them in 3 weeks. He was accepted, and they offered him $56,000 (14,000 per year)! Although, they are not his 1st choice. Remember the Park Scholarship that I told you about in the last post...he didn't get it. They had 1200 nominees, and they only pick 50. But, God has something else in store.
*Callie sang a solo in the Christmas program at church, and it was BEAUTIFUL! Thanks Mrs. Kristi and Mrs. Carolyn.
*Cassie's cheer team competed in Greensboro last week, and they came in 2

nd

place.
*Terry's job will most likely hold out until March 31st! Keep praying!
*We are enjoying being at home and wish all of you a Merry Christmas.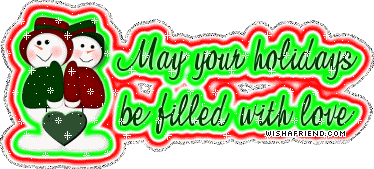 Myspace

Glitter Graphics
,
Christmas Glitter Graphics